Stepan Chernovetskyi shared his views on Ukrainian IT market with the Austrian Trend.
Stepan Chernovetskyi shared his views on the Ukrainian IT market and its potential with Trend., a well-known business journal in Austria.
"It was great to use this opportunity and promote Ukraine in Austria as a tech country with a significant potential," said Stepan. Such promotion is a part of what he calls "IT-patriotism."
His interview was published in a special issue focused on start-up businesses and global IT trends.
Please see below the full text of Stepan's interview and its translation.
New Start-ups in Ukraine
Until recently, well-educated IT specialists from Ukraine were moving abroad. Now, they create work for themselves. The domestic market is large.
Following the thriving Baltic region, Ukraine has also experienced significant shifts in the recent years: international corporations, such as Oracle or Microsoft, create their back-offices here, and highly qualified Ukrainian IT professionals are sought after all over the world. At the beginning of the year, Amazon paid USD 1 billion to home-provider Ring, which operates its largest technical center in Ukraine.
Slowly, but surely develops the scene in Ukraine as well. Only in the last year, the volume of investments in this area has tripled. Grammarly, whose Ukrainian founder, as well as of Robo Wunderkind (see page 14), studied in Vienna, raised USD 110 million last year. The Vienna Agency for Entrepreneurship recently sponsored Cardiomo for two months in Vienna. Cardiomo is a Ukrainian-American start-up that monitors health data through a portable device and gives an alarm in case of an emergency, using artificial intelligence.
Investor. Stepan Chernovetskyi from Ukraine is one of the largest investors in technologies in Eastern Europe.
"The opportunities that Ukraine offers in the technological sector are underestimated," says Stepan Chernovetskyi. With his Chernovetskyi Investment Group (CIG), the son of the former mayor of Kyiv is one of the largest investors in Eastern Europe. The group is worth appx. USD 750 million, 70% of its investments are made in Ukraine, and it is also looking for the projects in Austria. The largest of its investments is zakaz.ua – an online food delivery service that delivers to the customers' homes goods from the retail chains, such as Metro and Auchan. It is expected that in 2018, 400,000 customers will make regular orders. "Patented software shows products in 3D," says Chernovetskyi. The international chains are willing to use this software. CIG participates in the oother projects in the field of e-commerce, such as recommendation system Softcube or Eda.ua, the Ukrainian Foodora. "43 million people live here, the potential is very high," says the investor. Nevertheless, Ukraine is seen by many as a country of crisis. In the East, war is still going on, corruption is also a topic. However, the government has finally taken significant steps here.
Prospective market. Recently, Ukraine has presented successful start-ups, like Cardiomo, at the international level.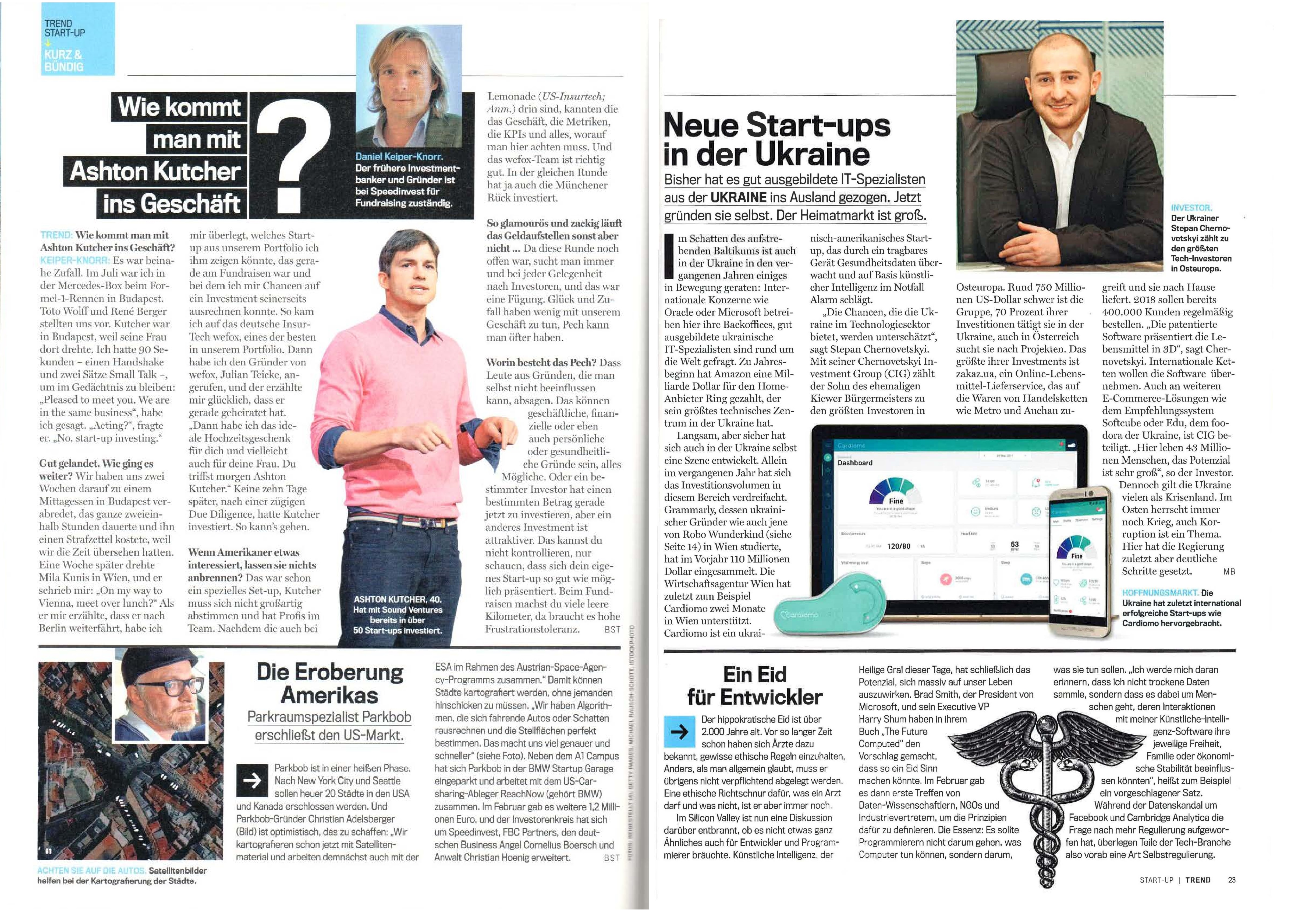 Stay up to date with our news